We launched our map of cities that have removed or reduced parking mandates on November 22nd and have received good feedback and over 45 new reports to update or add to the dataset.
We're working through the reports while working on features to improve the user experience. Over the weekend we published and update and we want to let you know what's new.
Help us improve this map!
You can help improve this map by:
Only show cities that have (mostly) removed all their parking mandates
The biggest new feature is a switch under the search bar that will toggle only the cities which have (mostly) removed all their parking requirements. Some of the cities showed will still have some parking requirements on the books, but have been determined by the Parking Reform Network editorial team to have effectively eliminated mandates citywide for most/all uses.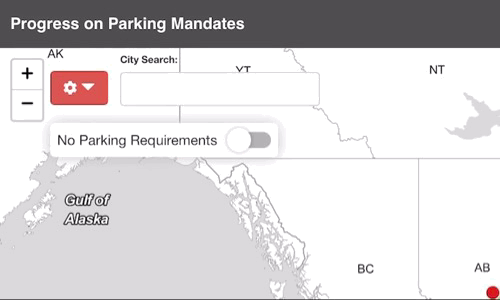 New additions and updates* since launch
Atlanta, GA*
Dunwoody, GA
Alameda, CA
Jackson, TN
Grand Rapids, MI*
Brevard, NC
Bend, OR*
Norfolk, VA
Gaithersburg, MD
Corvallis, OR
Pocatello, ID
Norman, OK
San Diego, CA*