What would a comprehensive parking reform bookshelf look like? If your local independent bookstore had a "Parking Reform" section, what would it contain? I'll share what I've got and what I know about, and we'll crowdsource a comprehensive list of books about parking.
I have four books which are specifically about parking: Donald Shoup's The High Cost of Free Parking and Parking And The City, Eran Ben-Joseph's Rethinking A Lot, and Bridget Brown's book for children Spot's Parking Lot. I recommend all of them.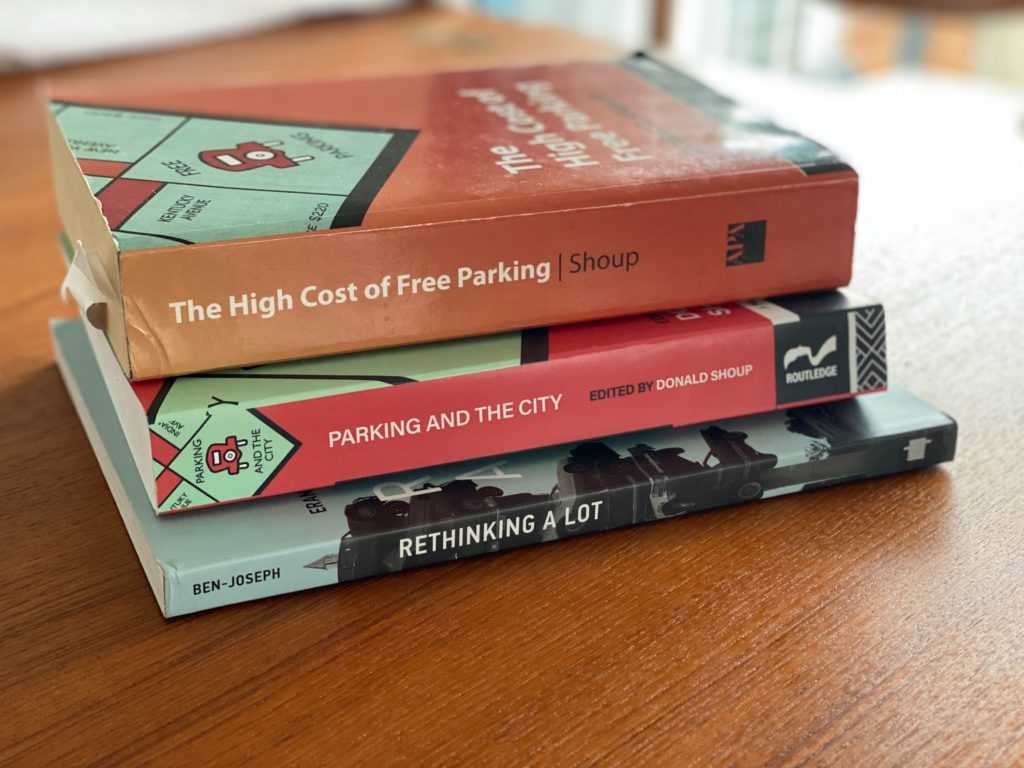 I have a few other books in which parking plays a role, Janette Sadik-Kahn's Streetfight, Jarrett Walker's Human Transit, and Randy Shaw's Generation Priced Out. I have Jeff Speck's Walkable City on audio-book.
I've read through Cal Poly Pomona Professor Richard Willson's books Parking Reform Made Easy (arguably the best title of all) and Parking Management for Smart Growth, they're more technical in nature, but great books.
There's a book that looks amazing: Parking: An International Perspective which came out in November 2019. I think a truly complete parking bookshelf would have a copy.
There are a few books I know of which focus on the design of garages. I spied a copy of The Parking Garage: Design and Evolution of a Modern Urban Form by Shannon S. McDonald on Professor Shoup's shelf. The Architecture of Parking by Simon Henley is another one.
Of course, there are the real heavy tomes of ITE's Trip and Parking Generation, various editions and supplements, but I think Professor Shoup presents most of the information a reformer would need from these resources.
Links to learn more about these books, and others are below. The Parking Reform Network has a "bookshop" set up at Bookshop.org where you can purchase several of these books and our organization will receive 10% of the sale price. You can find our bookshop here.
What did I miss? Let me know in the comments.
(Updated 12/19/2021)
Parking Reform and Policy
Parking Design, Architecture, and Culture
The books above are those that specifically focus on parking. For other city-building books, there are so many to cover that we couldn't do them justice. Others have already made those lists, including those specifically by women, anti-racist urbanist books, urbanist books by authors of color, and your annual book list from Planetizen.
This final group of books are not entirely about parking, but do make strong reference to the impact of parking on the built environment.
Urbanism, Housing, Transportation, Transit, and more.