How can we use PBDs to promote equity? In this section we will examine PBDs as a tool to create more just cities and an opportunity to review parking policies as a whole.
Avoiding a Concentration of Wealth
PBDs work because there is a high demand for parking in a particular area. If the money generated from this demand is reinvested to improve the public services in the metered area, you could envision a scenario where the nicest areas in a city continue to improve through meter revenue, creating more Rather than improving the quality of life for all city residents, this cycle would reinforce existing inequities and benefit areas that already have high levels of investment. How can we avoid this unintended consequence and are there other ways to share the benefits that PBDs generate? As we mentioned before, a good reason for the 51-49 revenue split between the PBD and the city is to help avoid this issue of concentrated investment furthering inequity in public services. It is no secret that areas with higher levels of investment like downtown business districts or affluent neighborhoods often receive priority in spending and services over low-income neighbors.* By sharing the revenue throughout the city, the PBD can help fund alternative transportation options citywide. Just as with the revenue spent within the PBD, we suggest that the ordinance stipulate that the city must spend their share on transportation justice measures to keep the money from disappearing into the wider budget. The overall goal should be to reduce dependence on single occupancy vehicles and the vast amount of parking they require. If the parking revenue is not earmarked for alternative transportation, it becomes a revenue stream based on car dependence without providing an 'out'. This earmarked spending makes high demand areas more accessible for all residents while strengthening the local economy by increasing the availability of both consumers and labor. There are ways to promote this economic accessibility through the PBD's share of the revenue too. Portland and Columbus' PBDs buy transportation wallets that use the city's existing public transit and rentable transportation options to fund employees' commutes without increasing traffic and parking occupancy. This use of PBD revenue directly benefits the PBD, while simultaneously expanding the economic opportunities it generates. Obviously, the parking revenue remaining within the metered district is the main selling point for PBDs for area stakeholders. Guaranteeing that nearly half the money will leave the district may spark opposition, even after the reasoning is explained. There are a few solutions to this problem. An initial pilot that keeps revenue within the district can help ease the transition by demonstrating how right-pricing can solve parking problems and acclimating area stakeholders to paid parking. Once people see the parking management aspect of right-priced parking at work, they may be more willing to concede some of the revenue. Another solution may be a transitional period over the course of 5-10 years where the revenue split gradually evens out between the district and the city, giving the PBD ample time to implement various projects before their share of the revenue decreases. If the PBD is located appropriately, the area's 51% of the meter revenue should still generate at least $150,000 2 a year after expenses. This substantial annual investment within a concentrated area will provide significant support for public projects. We've also thought through a scenario that uses PBD to promote equity in a fundamentally different way. As of late, city budgetary priorities across the US are shifting more towards racial and economic justice. Cities could approach PBD eligible areas and explain that this shift has redirected funds the city had previously spent on projects in the area towards underserved parts of the city. If they want to continue to fund these projects, they could institute a PBD which the city would help them develop. Rather than the area's new meter revenue funding other parts of the city, this approach frames PBDs as an opportunity to compensate for changing budgetary priorities driven by wider societal forces.
Problems with Parking Enforcement
Parking can also generate inequity through its enforcement. Throughout this chapter we have advocated for charging for parking. We have not advocated for criminalizing parking violations. We believe that parking is important, but it should not contribute to America's discriminatory justice system. Criminalizing parking violations becomes another example of criminalizing poverty. Two people of different financial means committing the same parking violation could have radically different outcomes. While one person could simply pay the ticket and move on, the other could face a myriad of consequences: additional late fees, license suspensions, even losing their car entirely.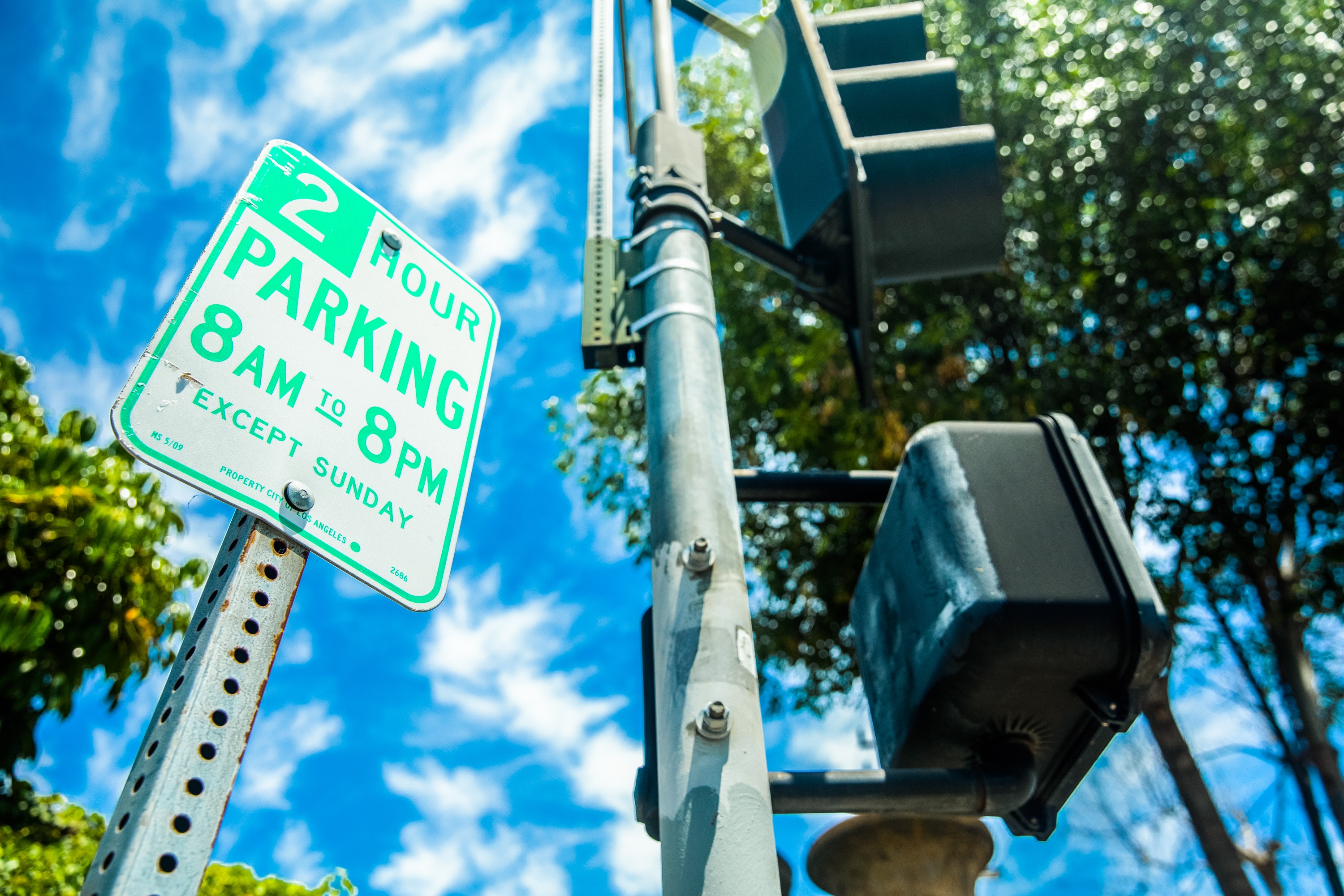 [...]parking is important, but it should not contribute to America's discriminatory justice system.
Enforcement is not free. As stated many times throughout this chapter, we believe that the best use of parking revenue is reinvesting it into multimodal transportation solutions. Unfortunately, in many cases, police departments are tasked with issuing parking fines that are then processed through the court system. In Portland, the courts take half of the ticket revenue while across the country it is standard practice for cities to use meter revenue to finance operations costs, including police enforcement. These costs can substantially tax parking revenue earmarked for community projects, instead funding police and the courts. In some cases like Pasadena, Pittsburgh, or Ventura, the PBD elects to use its revenue to hire police. We would encourage areas interested in using their PBD to promote public safety to look to alternative measures. The Chicago Metropolitan Agency for Planning worked with Chinatown residents to create a plan for a PBD that could fund streetlights under an overpass that had previously been avoided for fear of crime. Pittsburgh expanded its RPP to keep nighttime visitors out of nearby residential areas where they had been subject to theft and robbery. Just as adding parking is often seen as the only fix for a parking problem, adding police is often seen as the only fix for a public safety problem. As an organization, Parking Reform Network believes that police involvement often escalates situations. Additionally, we see no reason that someone tasked with parking enforcement should carry a weapon or have qualified immunity for their action.
What could equitable parking enforcement look like?
To answer this question, we must ask ourselves a few more. How do we set fines? In the US, parking and traffic violations are a flat rate determined by local laws. As explained earlier, this uniform charge can be a substantial burden for one violator, while being an afterthought to another. While equal, the fine is not equitable. Similar to income tax, a progressive fine based upon income could help balance its impact. Finland, Sweden, Denmark, Germany, Austria, France, and Switzerland have implemented this approach, Finland being most famous for starting earliest (1921) and having the largest fines. In 2002, a Nokia executive was charged $103,000 for going 45 mph in a 30 mph zone.* In the US, income is a touchy subject and not easily accessible. However, vehicles offer a simple proxy. Fines could be based upon the value of the car. This practice of charging appropriately based upon income is not only fairer, but works to deter illegal behavior. For the wealthy, fines become an incentive not to break the law rather than a nominal payment for doing so. For the poor, fines are no longer a looming danger that could bring years of economic consequences.
A parking program aiming to be more equitable should then ask itself: how can we reduce fines?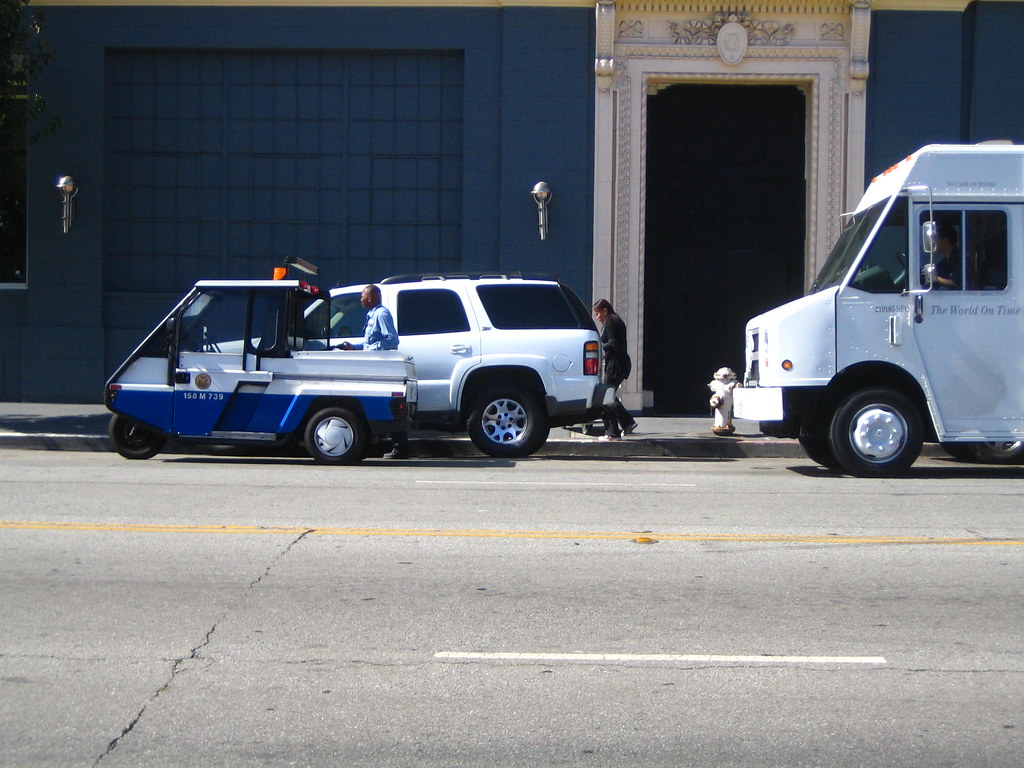 Until this change is implemented, fines will continue to have a larger impact on low income communities. A parking program aiming to be more equitable should then ask itself: how can we reduce fines? Are we encouraging violations through our design? The best system is one that doesn't need to give a ticket because its design discourages violations. If you don't want people parking close to the corner, make it impossible to park there with a bike rack or a planter. Are there trees blocking permit parking only signs? Is the paint identifying the disabled spots faded? Where is the city issuing fines and what can we do to discourage further violation? If the regulation is in place as a safety or accessibility measure, preventing violations is also a safety and accessibility measure. If no effort is made to stop violations beyond continued ticketing, one wonders whether the city considers violations a genuine public safety matter or a revenue stream. Who should enforce parking regulations? In most of the US, this job falls to police departments. After the nationwide protests against police brutality in the summer of 2020, Berkley and Burlington have decided to change this practice. Berkeley is currently in the process of shifting traffic and parking enforcement duties away from the police department and into a newly created city department.* Rather than create a new department, Burlington is transfering parking enforcement responsibilities to their Public Works Department.* These changes are meant to reduce the number of interactions between armed police officers and community members, especially those of color. This is a great step towards decriminalizing parking and reducing the harm it can perpetuate towards marginalized groups. There are countless cases of traffic stops ending with police killing civilians, Philando Castille's tragic and avoidable death most recently reaching national attention. Taking this responsibility away from police departments reduces the potential for these fatal interactions, the number of police, and the amount of parking revenue going into the justice system. Grand Rapids is also making this change, but with a different framing. The city announced in February 2021 that their mobility and parking services department would start enforcing parking to free up police officers to "concentrate more on neighborhood policing strategies."* This shift could take many forms depending on local capacity but we imagine it working primarily by using the funds that had previously gone to the police department for traffic/parking enforcement to fund another group doing the same work. Berkeley's created a new department while Burlington and Grand Rapids expanded an existing one. The main difference is civilian enforcement rather than police enforcement. These jobs could take the form of a parking attendant, similar to those employed by private lots. During enforcement hours, these attendants would walk around specific parking areas answering questions, helping people pay, and issuing citations.
Adapting outdoor dining to PBDs
The COVID-19 pandemic brought an onset of outdoor dining, parklets, or other curbside activations used to spur economic development in businesses that could no longer operate indoors. Many of these activations saw great success, including New York City's Open Streets program, San Francisco Shared Spaces, and many others across the country. As the nation forges a new normal, cities are grappling with strategies to integrate the success of flexible curb space with maintaining access to businesses and parking revenue loss.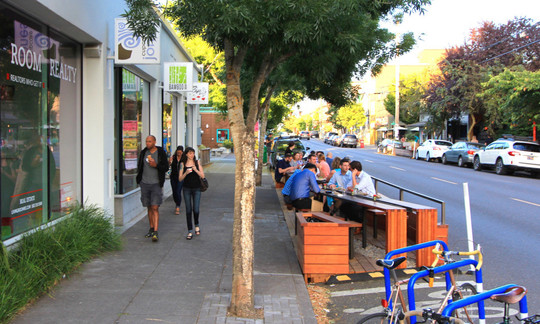 As the nation forges a new normal, cities are grappling with strategies to integrate the success of flexible curb space with maintaining access to businesses
Some emerging strategies include application fees coupled with monthly fees to use the curb space for dining as opposed to parking, and capping a specified number or percentage of the downtown's parking supply for this use. While these management tools address unruly outdoor dining fears, there are some key flaws that PBD strategies can help to address. Parklets and outdoor dining have been proven to generate city funds associated with increased customers generating sales tax revenue in comparison to metered parking--if parking is charged at all. Furthermore, limiting the number or percentage of spaces businesses can apply curbside activations to also limits potential revenue generated from the additional customers patronizing these businesses. It also raises issues as to which businesses do and do not have the opportunity to have outdoor dining and increase their revenue stream, which applications to prioritize and who ultimately decides that, along with the backlash that could come with it. Allowing all businesses to convert on-street parking into outdoor dining free of charge may not be feasible, but the cost in doing so should be similarly aligned with the price a driver would pay to park in that space. And with this revenue, there is an opportunity to funnel it back into the community, like a PBD model. This could allow the business to provide meaningful input and encourage more customers to shop along the corridor.