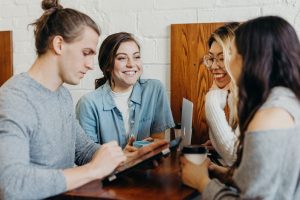 The Parking Reform Network is supported by members who volunteer their time and knowledge to build a parking reform movement. If you're looking to get involved, here are some of your options:
Committees
Research
The Research Committee is responsible for building out the parking policy library, maintaining our database of parking articles and research papers, and compiling and acquiring useful parking related datasets. The research committee reviews parking policy surveys and issues the Parking Policy Report Cards.
Communications
The Communications Committee helps to maintain the Parking Reform Network website and assists in development of the organization's literature and newsletters.
Fundraising
Members of the Fundraising Committee identify grant opportunities and assist in grant writing and applications.
Membership
The Membership Committee works on campaigns to grow the Parking Reform Network's base, on boards new members, and helps members get more involved with the organization.
Organizing
The Organizing Committee assists local and regional parking reformers with their outreach and strategy for creating and growing their own parking reform advocacy organizations.
---
Ready to get involved? Send a message to members@parkingreform.org or get in touch on the membership Slack.
---
Boards
Board of Directors
The Board of Directors has a responsibility to advise, govern, oversee policy and direction, and assist with the leadership and general promotion of the Parking Reform Network so as to support the organization's mission and needs. The duties and requirements for members of the Board of Directors are outlined in this document.
Advisory Board
The Advisory Board provides an opportunity for distinguished supporters of the Parking Reform Network to be associated with and assist the organization without taking on the responsibility of a governing position. Advisory Board requirements and responsibilities are outlined in this document.